Meetings in Voorschoten
Van der Valk Hotel De Gouden Leeuw is the first hotel of the Van der Valk concern. This modern, yet classic location is unique in the area and perfect for your business meeting, conference, training and workshop. The hotel is located in a green surrounding, between highways A4 and A44 and close to the cities Leiden and The Hague, with free parking and free WiFi.
We offer you all the luxury and comfort to make your meeting a success. From small to large groups, from a one-day to multi-day congress.
Corona virus information
Please contact our Sales, Marketing & Events department for the current measures and possibilities for your event.
Hotel De Gouden Leeuw offers 12 rooms. In addition to small and medium-sized meeting rooms, we also have a large meeting room with a capacity for up to 400 persons. It is possible to use one or more break-out rooms, all with a set-up of your choice.
Your meeting room has:
Daylight
Free WiFi
Air conditioning
Beamer with projector / LCD screen
Comfortable seats
With every meeting package we offer, unlimited coffee/tea, soda's and mineral water are included, as well as candy, refreshments and writing material. Scroll down for all packages or download our Factsheet at the top of this page.
Hotel De Gouden Leeuw has 12 flexible meeting rooms, suitable for up to 400 people.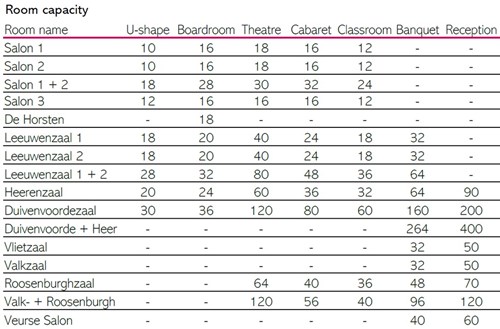 Breakfast:

Breakfast buffet in our restaurant € 15.00 p.p.
An

extensive

buffet to start the day with a boost
Breakfast in the meeting room € 19.50 p.p.
Several kinds of bread with spreads, sweet rolls, fruit salad en warm items such as scrambled eggs, sausages and mushrooms
Lunch:
Lunch buffet in our restaurant from € 16.50 p.p.
Sandwich lunch in the meeting room € 16.50 p.p.
2 sandwiches, a muffin, fruit, orange juice and milk
Lunch with sandwiches, salads and soup € 19.00 p.p.
2 sandwiches, soup, salads, fruit, orange juice and milk
Informal lunch deluxe € 24.50 p.p.
Salad buffet and 4 snacks of choice served (such as gazpacho/wraps/amuse bouche/mini-hamburger)
Dinner:
3-course menu in our Valk Restaurant € 32.50 p.p.
Including 2 drinks
3-course menu in culinary Restaurant Upstairs € 32.50 p.p.
Excluding drinks
Buffet in a private room € 32.50 p.p.
Including salads, meat, fish, vegetables/fries, a dessert and 2 drinks
Buffet deluxe in a private room € 33.50 p.p.
Including salads, meat, fish, vegetables/fries and a dessert. Excluding drinks
Morning/afternoon break:
Ice cream break - Tip! € 2.90 p.p.
Make a short walk (± 2 minutes) via the natural farm to the ice cream parlour and enjoy a home-made ice cream
Sweet break € 2.50 p.p.
- Petit four (with logo + € 0.50 p.p.)
- Donuts and/or muffins
- Slices of banana bread
Healthy break € 5.00 p.p.
- Smoothie with a fruit skewer
- Gazpacho with a bruschetta
- Snack vegetables with hummus
Snack break € 5.00 p.p.
- Chicken satay with rice and gado gado
- Gyoza with an oriental sauce and spring onion
- Mini hamburger and a fried shrimp
Drinks & bites
1 hour drink package € 9.50 p.p.
During 1 hour we serve all drinks from the domestic package. Including nuts and Dutch bitter balls
Dutch fried snack platter € 3.00 p.p.
Mini hamburger € 3.50 p.p.
Cheese and sausage platter € 2.00 p.p.
Luxury toast € 2.00 p.p.
Amuse spoon € 2.00 p.p.
The above are just some of the possibilities. We would be pleased to make a special offer for your event.
The Uniform Conditions for the Hotel and Catering Industry apply to all our reservations. Prices subject to change, not valid on public holidays. No rights can be derived from the text on this site.
Hotel rooms:
We offer 142 rooms in a wide range. The rooms offer every comfort to ensure that your guests are ready to start a new day. Check the rates on the day of your choice here or contact the Sales department via +31(0)71 5602830.
Restaurants:
In the well known Valk Restaurant your guests will be provided with a great meal before, during or after the meeting. Dinner can be consumed in the meeting room or at the restaurant.
Restaurant Upstairs offers a culinary menu and is opened from Thursday till Sunday for a 3- or 4-course menu. The restaurant has a private dining room and a roof top terrace with evening sun.
Pancake restaurant Tante Tokkie is located just behind the hotel. You can choose between over 40 pancakes. At the ice cream parlour your guests enjoy a home-made ice cream and afterwards you can walk over the natural farm. The first floor offers a private dining room.
Tasting room Mimi is located on the other side behind the hotel and is a great food & lifestyle restaurant. Mimi only uses daily fresh products from the Valk Fresh market, which they use in a creative way for their lunch menu. Fun aspect: you can buy everything in the restaurant. Yes, also the table you sitting at and the shoes of the employees!
Other facilities:
Our hotel bar is opened daily for drinks and bites
Ivy Boutique Wellness is ideal for a relaxing activity. How about a s

inging bowl session or a yoga session? Guests with an overnight stay can use the swimming pool and fitness free of charge.

The sport and play field of 60 by 100 meters is perfect for workshops and teambuilding activities

The Valk Fresh market is a unique shop with a meat, fish, cheese, coffee, bread, wine and vegetable section
What can be found where?
Van der Valk Hotel De Gouden Leeuw is located in Voorschoten, near Leiden and The Hague. The hotel is close to royal estate The Horsten, with castle Duivenvoorde on walking distance.
The hotel is located near two highways: the A4 and the A44.
With public transport you can travel from Leiden central station and The Hague central station with busses 45 and 46 to the hotel. The bus stops in front of the hotel, stop: De Gouden Leeuw.
Voorschoten has its own train station with a walking distance of 20 minutes.
Distances
Voorschoten city centre 1 km
Leiden city centre 7 km
The Hague city centre 10 km
Schiphol Airport 43 km
Amsterdam city centre 62 km
Hotel De Gouden Leeuw takes several steps to do business as sustainably as possible. For example, we use LED lighting throughout the hotel, we use as few mono packaging as possible, we use sustainable paper and cleaning products with an environmental characteristic. You will find various charging points for electric cars on the site.
The newly built buildings on our site (Valk Fresh Market, Ivy Boutique Wellness and Tante Tokkie) currently supply energy to Hotel De Gouden Leeuw. This is done, for example, by the solar panels on the roof of Valk Fresh Market, as well as via the heat pumps that heat the water in the hotel and the swimming pool. Since this is a fully electrical system, no gas is required during this process.
Take a look at our brochure for more information about Van der Valk and sustainability.
The hotel also has the Green Key Gold certificate. The Green Key is the international quality mark for companies in the tourism and recreation sector that are seriously and verifiably engaged in environmental care. The Green Key guarantees the entrepreneur's commitment to do more for the environment than is required by law and regulations.
Van der Valk has also been named the most sustainable hotel chain in the Netherlands in 2020. Sustainable Brand Index is Europe's largest independent brand survey into sustainability. In the results of 2020, Van der Valk is in 60th place of the 176 surveyed companies in the Netherlands. Van der Valk is at the top of all hotels and has therefore emerged as the winner.
Rates and packages
4 hour package

- Including room rent
- Unlimited coffee and tea with sweets
- Soft drinks and mineral water
- Delicacy & refreshments
- Writing material
- Use of projecter/LCD screen
- Use of one flip chart

8-20 persons: € 26.00 per person
>20 persons: € 25.00 per person

4 hour package with lunch

- Including room rent
- Unlimited coffee and tea with sweets
- Soft drinks and mineral water
- Delicacy & refreshments
- Writing material
- Use of projecter/LCD screen
- Use of one flip chart
- Lunch buffet in the restaurant

8-20 persons: € 41.50 per person
>20 persons: € 40.50 per person

8 hour package with lunch

- Including room rent
- Unlimited coffee and tea with sweets
- Soft drinks and mineral water
- Delicacy & refreshments
- Writing material
- Use of projecter/LCD screen
- Use of one flip chart
- Lunch buffet in the restaurant

8-20 persons: € 46.50 per person
>20 persons: € 44.50 per person

8 hour package with dinner

- Including room rent
- Unlimited coffee and tea with sweets
- Soft drinks and mineral water
- Delicacy & refreshments
- Writing material
- Use of projecter/LCD screen
- Use of one flip chart
- 3-course dinner including 2 drinks

8-20 persons: € 61.00 per person
>20 persons: € 57.00 per person

12 hour package

- Including room rent
- Unlimited coffee and tea with sweets
- Soft drinks and mineral water
- Delicacy & refreshments
- Writing material
- Use of projecter/LCD screen
- Use of one flip chart
- Lunch buffet in the restaurant
- Afternoon snack
- 3-course dinner including 2 drinks

8-20 persons: € 81.50 per person
>20 persons: € 79.50 per person